The dream to leave the busy city life for a quality life on the South Coast of KZN was made a reality in 2005 for Terry and Jean Dore – founders of Mac-Eden Estate.
This beautiful 42 hectare farm with approximately 8400 macadamia trees of various Hawaian varieties stole their hearts with its evergreen trees, ferns and gentle streams of water – their precious piece of macadamia eden...hence the name Mac-Eden Estate was born.
While Terry busied himself with securing neighbouring farms, land preparation, general farm operation, company finances and export marketing, Jean did all the admin, ran the factory and began experimenting with all sorts of delicious value-added macadamia products. Mac-Eden Delights was born.
Having had no farming background, but possessing qualifications in business and marketing, Terry and Jean traded their top of the range Audi for a tractor with a leather seat and began growing macadamia nuts. 
After many learning curves, disappointments and financial struggles, Terry and Jean boldly decided to build their own processing plant with a plan to market their macadamia kernel directly to International Markets. 
With a financial investment from a silent partner, the factory was built by family, equipped with a processing plant found in a dormant macadamia facility and was fully operational by the end of 2008. Through Terry and Jean's drive for success, International buyers were secured and the entire crop was exported and sold in 2009 (and every year since.)
Mac-Eden's growth from that point was exponential.
Having been blessed with four children, Andrew, Lee, Justin and Jessica, the time was right in 2013 to invite Lee and her husband, Stel to come and join the business. Justin was already at work on the farm and so the real family business began.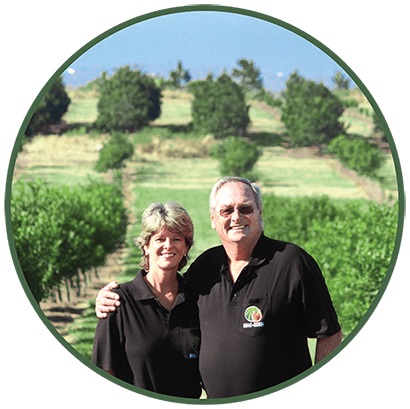 Stel was appointed Operations Director and Lee began her 3 year apprenticeship to take over as Managing Director.
With the extra expertise and efforts from the children, Mac-Eden's small beginnings multiplied exponentially from the original 42 ha to our current 200ha of planted mac-lands. Skilled and dedicated staff were brought on-board the family Mac-Eden team to grow it from a mere 20 people to more than 130 employed. 2017 saw us recognizing and celebrating long-term cash service awards to faithful, hardworking staff after acknowledging our 10th year of operations.
After much hard work, dedication and commitment to old-fashioned values of integrity, professionalism, outstanding service, quality product and valued long-term relationships with suppliers and consumers, the Dore family and Mac-Eden Team have created a success story to inspire all and anyone who dare to dream.