Built in 2008, Mac-Eden's own processing plant was established to be able to process our macadamia nuts on-site.
Our factory is dedicated solely to the processing of world class macadamia kernel.
Over the years, continuous investment has gone into upgrading our processing equipment and procedures to maximise on quality nut production and crackout results whilst pursuing lower operational costs.
Our ISO22000 accreditation was achieved in August of 2018. Current and upheld.
1000 tons of nut-in-shell (NIS).

This allows us to process nuts for other selected and like-minded macadamia growers over and above Mac-Eden's own harvest.
Transporting services can be arranged should they be required.

Receiving and weigh-in of NIS

De-husking facility should it be required

Heated Drying Bins

Cracking Process with subsequent sorting, grading, sizing & styling

After-Dryer

Individual Crack-out control sheets

Quality control measures

Vacuum packing

Palletizing and shipping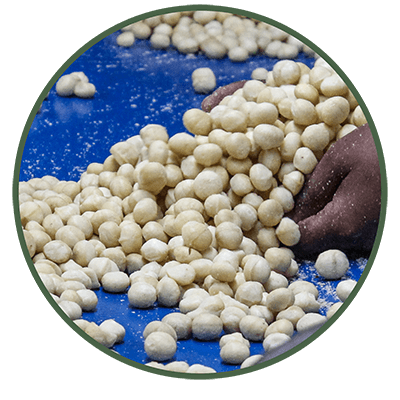 The factory currently employs approximately 80 women from our local community and surrounds.

Staff are transported to and from work daily.

Long-term service cash rewards are issued in recognition of the value of trained skills and loyalty to the company.
At Mac-Eden, development and re-investment never stops.
Our commitment is to always strive to achieve better and more efficient methods of processing macadamia kernel whilst adhering to all quality and safety requirements thereby never compromising on the quality of the product.